Security First Insurance Ranks 7th in Statewide Competition: Best Companies to Work For in 2015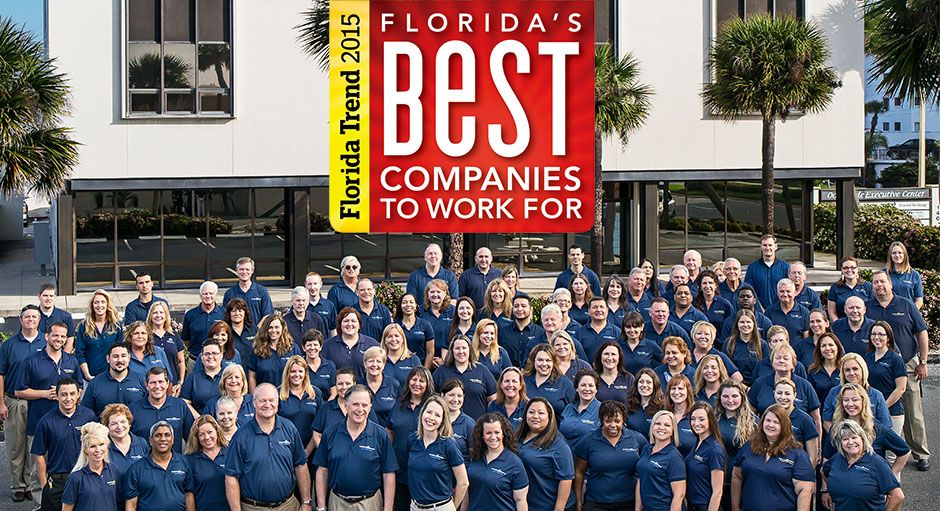 .
Ormond Beach, Fla. (July 23, 2015) – Innovation. Fun. Compassion. While those words aren't traditionally associated with home insurance, they are at the core of Security First Insurance Company's vision, and a fundamental reason why it was selected as the 7th Best Midsize Company to Work for in Florida for 2015.
This is the first time Florida's 3rd largest homeowners insurance company, Security First Insurance, participated in Florida Trend's award competition. The company ranked highest among other Florida home insurance providers. Each year, Florida Trend honors 100 various companies throughout Florida that exhibit workplace excellence. Security First Insurance was selected based on a two-part assessment process. The first was comprised of an assessment of the company's benefit programs, policies, practices and other general information. The second included an in-depth analysis of leadership and planning, corporate culture and communications, work environment, and employee satisfaction. Best Companies Group determined the list rankings based on the combined assessment scores.
Employee Development and Advancement Opportunities
Security First Insurance is a family owned company that serves hundreds of thousands of Floridians across the state. The company employs 125 insurance professionals and is actively hiring. In 2014, 12 employees were promoted into positions of increased responsibility or transferred into another department to acquire new skills. And ten employees have taken on new opportunities within the company year-to-date in 2015.
Promoting from within is just one way Security First Insurance invests in its employees. Aside from the traditional employee benefits most companies offer, Security First Insurance offers an employee wellness program, automatic birthdays off with pay, and tuition reimbursement to full-time employees. The company also offers a series of communication workshops and leadership luncheons to help employees expand their skills and to share company and industry information across the organization.
"Our company's success is a direct result of the hard work our employees perform each day," said Locke Burt, chairman and president of Security First Insurance. "I am humbled and gratified that our employees think so highly of our culture and our workplace. We will continue creating a work environment that fosters collaboration, innovation and growth, and where employees feel like they are part of the family."
The full list of 100 Best Companies to Work For in Florida will be published in the magazine's August issue. Florida Trend is an award-winning magazine that covers business news, industry analysis, regional news round-ups and executive lifestyle.