A Look Back at Hurricane Katrina

On August 23, 2005 a small tropical depression formed in the Bahamas. By noon the next day it was a named Tropical Storm Katrina. Two days later on August 25th, Katrina became a Category 1 hurricane only two hours before making landfall in southern Florida. Now you may think a Category 1 isn't much of a threat in comparison to a Category 4 or 5, however, with 15-foot waves and winds of 80 MPH, Hurricane Katrina left more than 500,000 South Florida residents without power and resulted in 14 hurricane-related fatalities. Katrina continued her path through the Gulf of Mexico.
In the Gulf of Mexico, Katrina grew rapidly. Hurricane experts anticipated a Category 3 hurricane urging people to evacuate Louisiana - but there was little time. Katrina became a Category 5 and headed to shore making landfall across Louisiana and Mississippi on August 29th. Hurricane Katrina slammed the city of New Orleans head-on with winds up to 175 MPH and a 20-foot storm surge. Katrina broke through the levees and flood walls leaving 80% of New Orleans under water and an estimated 1,836 of hurricane-related fatalities.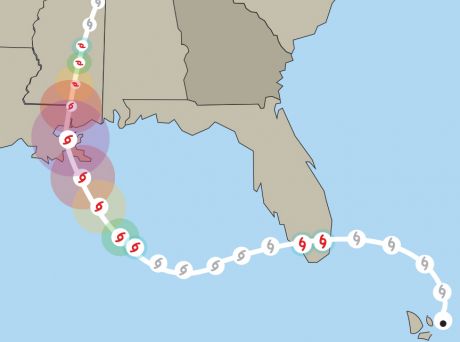 The Costliest Hurricane in US History
The devastation the people in New Orleans faced was crippling. Katrina caused more than $81 billion in property damage and $40 to $60 billion in insured losses, half of which were the result of flooding. An estimated $150 billion in economic impact, which affected 19% of all US oil production and caused irreparable damage to many large corporations. An estimated 15 million people were affected due to the suffering economy in Katrina's aftermath. Any size storm can have a huge economic impact. Sandy was a Tropical Cyclone when it made landfall, but still resulted in $65 billion in damage.
Have an Evacuation Plan and Heed Warning Signs
Many people were not prepared for Hurricane Katrina ten years ago. More than half of the fatalities in Louisiana and Mississippi were senior citizens and over 705 people are still missing. Preparation and timely evacuations are critically important.
Most people watch news reports or check online to get storm updates, but these updates don't always show you how close you are to the storm. Security First Insurance's free mobile app is available to all Floridians and includes an interactive hurricane tracker. You can plot your property and monitor the storm's path on the storm tracker map. The app also includes evacuation routes and active Red Cross shelter locations. Before the storm you can use Security First Mobile to shop for supplies and prepare your home for the storm. Other helpful apps include: Hurricane by Red Cross and Your Plan, which help you create an emergency plan for your family.
The Crisis After The Storm
After a hurricane be on the lookout for fraud. After Hurricane Karina, the Department of Justice created the Hurricane Katrina Fraud Task Force, now known as the National Center for Disaster Fraud (NCDF) to combat insurance fraud. Take proper precautions to avoid getting tricked into an insurance fraud scam. The #1 mistake homeowners make after a disaster, and when their home is damaged, is not contacting their insurance company first. Their initial thought may be to make repairs and call a contractor to begin work. In some cases, the scope of the damage repair is beyond what is covered by the policy and the homeowner receives a bill for the difference. Often, all of this takes place before the insurance company is notified.
Hurricane Katrina is long gone, but her remnants will last forever. Don't allow yourself to think "eh-this storm isn't that bad," or "this storm will never hit us." The choice not to evacuate could cost you your life. Stay prepared and monitor storms closely.
Useful Resources:
Security First Mobile – Storm Tracker app