Security First Mobile
Whether it's sunny skies or severe rains, make sure you're prepared for any weather condition--especially hurricanes. Our free mobile app keeps you up-to-date with the local weather in your area. The app has tools to help you prepare for storm season and track hurricanes on a custom map. You can also manage your insurance policy, make a payment, or file a claim.
Get the App!
Tools for Hurricane Season
Interactive Storm Center



Use our hurricane tracker to get information on storm activity, evacuation routes, and shelters.
Take our interactive Hurricane Preparedness Checklist with you as you shop for supplies.
What's the difference between a Category 4 and Category 5 hurricane? Learn about important hurricane terms using Security First Mobile.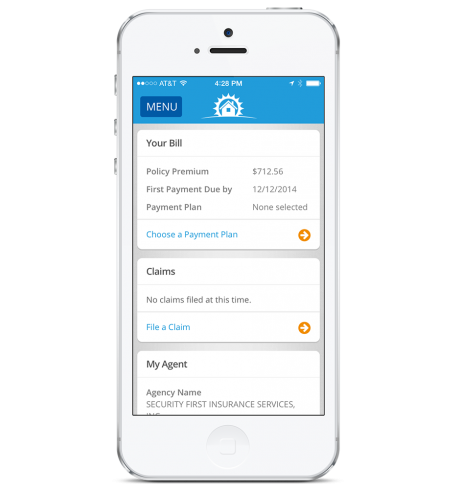 Manage Your Insurance Policy
Payment Center - Make a payment and view payment history.
Claim Center - Report a claim and upload photos of the damage; receive immediate access to the contact information of the team assigned to your claim; email the summary of your claim.
Disaster Response - Locate and get driving directions to our mobile recovery unit.
Policy Info - View policy information and enroll in our paperless program.
Single Login - Whether you create an account in our mobile app or on our online customer portal, My Security First, you can manage your account easily with the same username/password login.
Security First Mobile
Available in the iTunes App Store & Google Play
Whether you're a customer of ours or not, you'll have access to interactive features including the Storm Center, Hurricane Checklist, Agent Locator, and more. You can even get an instant quote for Renters, Condo, or Homeowners Insurance using the app's free instant quote tool.