The Truth About Winter in Florida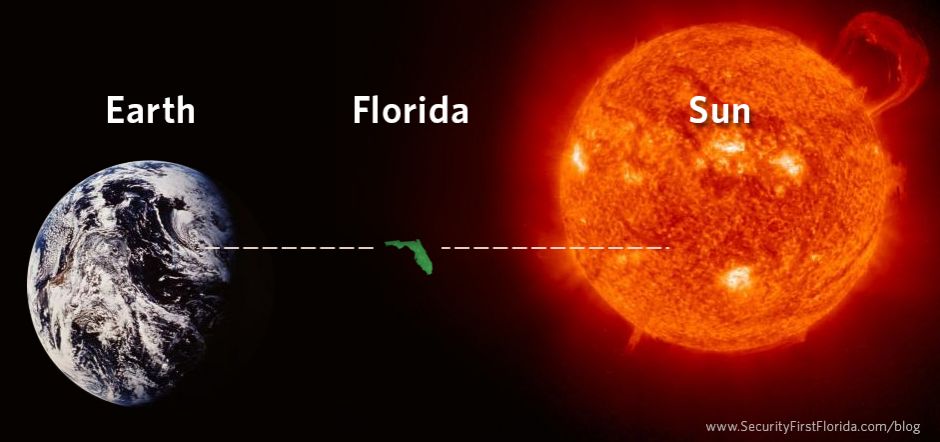 There's been a lot of buzz around Florida weather in the news lately, ever since The Weather Channel published a temperature map of the country showing each state cloaked in chilly blue tones—except one. Florida shone in warm hues of reds and yellows, with temperatures as much as 100 degrees warmer than the coldest forecasts. Even California was looking frosty. Residents outside of Florida have shown signs of jealousy, declaring that we Floridians have decided not to participate in the month of December. December: generally known as a season of snowflakes and frigid weather. I guess they have a point.
There's a running joke about Florida's four seasons: almost summer, summer, not summer but still hot, and February.
There's a running joke about Florida's four seasons: almost summer, summer, not summer but still hot, and February. While folks in other states are cozying up by the fireplace, we're debating whether or not the ocean is a tad too chilly to dip our feet in. (The northern tourists are, of course, at the beach swimming freely, oblivious to our questioning looks.)
When snowbirds migrate to Florida, you'll often hear them say, "I miss the seasons." Or so they say. They may not feel the same way when they're in their next blizzard. But they have yet another point. If you were lost without a calendar, how could you tell what time of year it was in Florida? Luckily, I've discovered a few ways to know it's officially wintertime.
Three Ways to Know You're in Florida for Winter
The only reason the trees change color are the holiday lights strung throughout the branches. (Speaking of which, it's worth the trip to visit St. Augustine's Night of Lights and watch the mesmerizing illumination of this historical town.)
Snowmen are actually made out of sand. And of course, who doesn't like sand angels?
You hear people around you saying, "Oh my gosh, I almost wore a hat and gloves today! (If I owned a hat and gloves.)"
Three Reasons You Should Spend Winter in Florida
You don't know—or you've completely forgotten—what snow shoes and tire chains are.
Your best winter coat is a windbreaker—something has got to hold back the ocean breeze!
And last, but certainly not least: it's not Hurricane Season anymore. Relax!
Naysayers may make fun of Florida or worry about hurricanes and the cost of home insurance. But if you're living in Florida, homeowners insurance may be less complicated (and less expensive) than you think. As long as the insurance company is financially stable, you can have peace of mind and embrace all the wonderful things Florida has to offer.
While we're on the subject...
Do you need an insurance quote for your home or condo?
Whether you own or rent in Florida,
you can get an instant quote (yes, an actual number!) in just a few minutes.