Insurance Comparison Tools
If only researching insurance options were as simple as picking boxes off the shelf and comparing the ingredients.
Until that happens, there are still ways to compare the "nutrition facts" if you know where to look. We realize that many homeowners want to shop around and compare insurance options. In fact, we encourage it. We've put together key information to help you compare Florida home insurance companies, coverage, and online quotes. Download our comparative checklist guide to shop other insurance companies and compare options.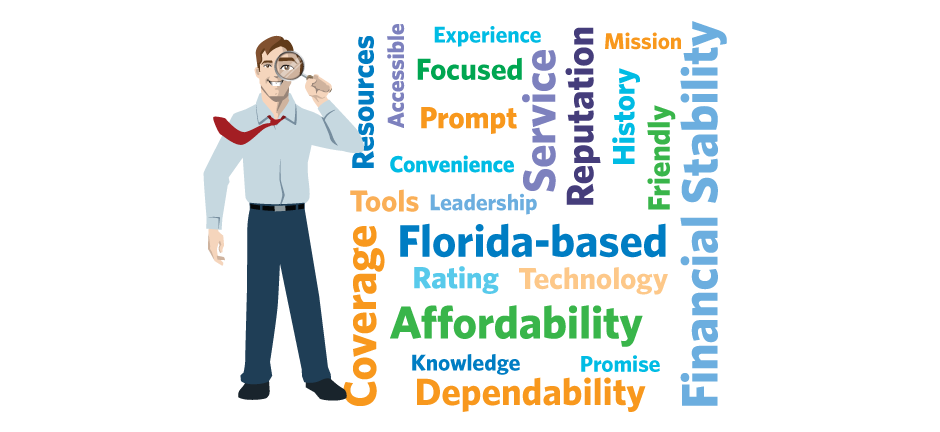 Comparing Insurance Coverage
Homeowners insurance coverage can vary among providers and impact the quotes you receive online and from your agent.
At first glance, a home insurance quote with the lowest price may seem like the best option, but after taking a closer look you may find that you're getting less coverage. We recommend you carefully look at all coverage on the quotes provided to you, but here are a few different types of coverage that can have a significant impact on the estimate:
Coverage A
Coverage A is coverage to replace or repair the structure of your home. Different home insurance companies use different valuation systems to determine the estimated coverage amount. When comparing quotes, it's important to review this coverage to determine if the same amount is used.

Tip: Your Coverage A amount should not reflect the value of your home on the real estate market, but the cost to totally rebuild your home.
Ordinance or Law Coverage
As safety research uncovers new ways to make property safer and able to better withstand strong winds and other natural forces, building codes become more stringent. Ordinance or law coverage pays for the increased costs to rebuild your home to meet current building codes. Any variance in this coverage could greatly impact the quote estimate. Make sure the coverage amounts are the same for each quote you review and that you are satisfied with the amount.
Tip: Coverage A (coverage for the structure of your home) will only compensate you for the cost of rebuilding or repairing your home to its original state. Without adequate ordinance or law coverage, you could be left with significant out-of-pocket expenses to meet the requirements of Florida Building Code. Security First Insurance includes Ordinance or Law coverage at 25% of Coverage A in our policies.
Replacement Cost on Contents Coverage
For some home insurance companies, replacement cost on contents is optional. Security First Insurance policies include replacement cost coverage for your personal property. This means that if your personal property is lost, stolen, or damaged by a covered loss, your items will be valued using the current market pricing of items that are brand new. If you do not obtain this coverage, items are valued at their depreciated value, which is less than full market value and more like the value you'd receive for items if they were sold at a garage sale.
Identity Theft Protection
Different companies offer different levels of identity theft coverage and may not include monitoring services. Without monitoring services, it could take longer before someone is alerted that their identity has been stolen—resulting in unnecessary, long-term, extensive damage to their reputation and credit. Security First Insurance's identity theft coverage includes monitoring services and is available for $25 per year. Not all companies offer identity theft coverage, so make sure you check to see if all quotes presented to you include or exclude this coverage.
Water Damage
Water damage is not the same as flood insurance and the level of coverage can vary. Make sure you have a full understanding of the water damage coverage and check to see if the cost for this coverage is added to the homeowners insurance quote.
Proximity to Fire Stations and Hydrants
The distance from where your property is located to a responding fire station and fire hydrant can have a significant impact on the estimate you receive. This is called Protection Class. The physical locations of fire stations and hydrants can change, so make sure the agent has the correct information. Most insurance companies will reduce the cost of insurance if your home is located within five miles of a responding fire station and 1,000 feet of a fire hydrant.
Comparing Online Insurance Quotes
Online home insurance quotes are convenient, but it takes a little more information to get a truer "apples to apples" comparison.
Instant Quotes DO:
Offer quick estimates of the cost of insuring your home.
Ask basic questions that impact premium, using default numbers to "fill the gap" on questions not asked.
Vary from company to company. The more questions asked will typically result in a more accurate home insurance quote.
Instant Quotes DON'T:
List all discounts you may be eligible to receive.
Factor in a company's customer service, rating, or financial stability.
Include optional coverage you may need to replace valuable property.
Comparing Florida Home Insurance Companies
To get the most accurate instant quote for Security First Insurance Company, we recommend using our modern insurance quoting tool. You'll have a personalized estimate in minutes. If you're comparing general rates in your county, the Florida Office of Insurance Regulation has a basic insurance estimator that will give you a quick snapshot from different Florida homeowners insurance companies. Just be sure to remember our tips above while you review instant quotes from multiple home insurance companies. Security First Insurance looks more closely than counties to accurately determine rates. By being more precise, we can pass those savings on to our customers. Security First Insurance also includes many important coverages like replacement cost that other insurance providers require you to purchase separately.
Download Our Comparative Checklist
Many homeowners begin their search thinking about price.
This is a reasonable starting point, but don't forget to ask important questions about financial stability, online and mobile tools and, of course, customer service for each of the home insurance companies you are considering.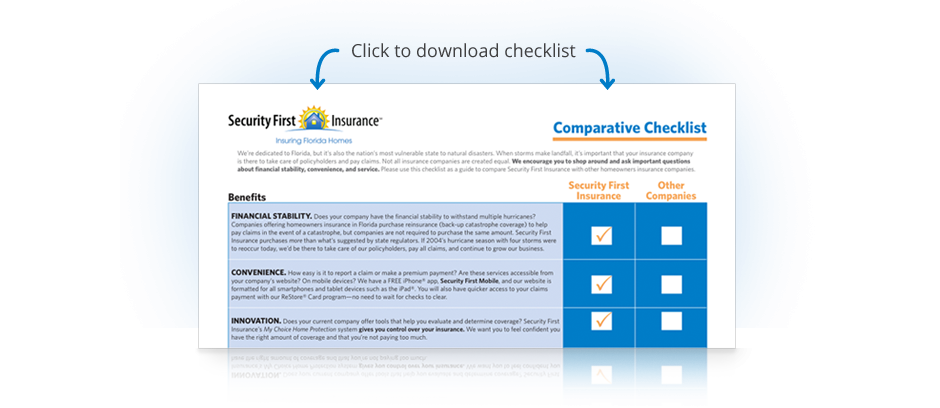 How to Switch
If you want to switch Florida home insurance providers mid-term or when your policy renews, there are ways to make the process easier and faster.
Use our instant online home insurance quote to get an estimate and email it directly to a local agent.


For an "apples to apples" comparison, provide your agent with a copy of the Declarations Page of your current policy—it's usually the first page in your policy package.
If you have a Wind Mitigation Inspection Form, also called an 1802 form, your agent will have the resources needed to review all discounts to determine eligibility. If you do not have this form and your home does have opening protection, such as shutters, be sure to contact your agent for assistance with the WLM process.
If your policy is not up for renewal, you can still use the steps above to switch insurance providers.
When your policy is cancelled with your current provider, you may receive a portion of the unused premium from that policy. The amount you receive will depend on how much of the premium has been used based on the time that has passed from the policy's effective date.
Get an Instant Florida Insurance Quote
Get your estimate for home, condo, or renters insurance in three minutes.